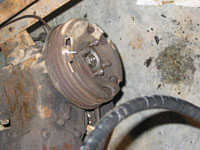 SPUG Nuts
After months of inactivity, Evan and Barry were determined to brave the cold weather and do some wrench turning. Since the bodyectomy, Ole Blue has been sitting quietly in Barry's unheated garage. Outfitted with cold weather apparel they spent the day removing the steering gear and the transmission and transfer case.

Grease and mud, baked for 50 years
The first task was to remove the front and rear drive shafts. With the body removed, access was a breeze and removal of the U-bolts was aided by 50 plus years of grease and mud. The combination had prevented rust from forming.

While removing the shafts, we found we aren't able to shift the transmission. This is not a good sign and most likely means we will be looking at an overhaul.

Steering clear
After removing the drive shafts, we decided to remove the steering gear box, steering column and wheel so it wouldn't be in the way of the transmission removal. The gear box is fastened to the frame and come off without a problem. Removing the shaft from the rest of the steering gear was more of a challenge. We employed a gear puller and left the puller under tension while we broke for lunch and a warm up.

After lunch, a quick turn of the ratchet and the shaft broke free. Evan decided to become the poster child for the society for the prevention of unheated garages (SPUG).

Transferring the transfer
With the steering gear out of the way, we attacked the transmission and transfer case. Using screwdrivers, we had to find the bolts holding the transmission and transfer case in place. As with the drive shafts, the 50 + years of grease and dirt had created an effective rust barrier.

Using our engine hoist (a really handy device), we quickly and safely lifted the transmission and transfer case off the frame.

Cold enough
Checking SPUG rules, it appeared that it was time to head in by the fireplace and thaw some parts. But first, Evan had to move the 2a back to its proper bay. Next up, springs and things.


Barry's Notes:
As we were removing bits and pieces, I did ask the question "Do you think we will every get this thing back together?" Evan's reply was that we always have the 2A as our model. On one hand, this is very reassuring. But after looking at some of the modifications the PO (AKA Previous Owner) made to the 2A, it may not always be the best model to follow. And I do need to find a way to heat the garage.

Evan's Notes:
The closer we get to the bare frame the more excited I get. I don't feel intimidated by the magnitude of what we have to do, but I do feel encouraged knowing we'll be starting with a blank canvas. Can't blame any future problems on the "PO".