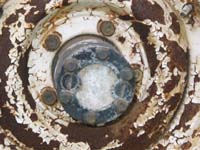 ID Help
As we mentioned in JRT Take Two, we spotted the CJ-3A style on piece windshield, but with no engine or VIN we wanted to if we really had a CJ-3A, or just a CJ-2A with the wong windshield. We started looking for help on Willys Tech Board by posting the following:

http://autos.groups.yahoo.com/group/WillysTech/message/84608
My father (lhfarm) and I are restoring a '47 CJ-2A and just
picked
up what may, or may not be, another '47 2A as a parts Jeep. The
seller thought it was a '47 2A, but as it has a one piece
windshield, that is in doubt. So, here's the real question,
without
a ID plate, engine, or seats, is there any way to tell what we've
got before we do a frame off?

http://oldfarmjeep.com/img/jeep/partsjeep-1.jpg

Thanks,
Evan
1947 CJ-2A
19?? CJ-?A

oldfarmjeep.com

Some Clues
Willys Tech members responded with:

I think that the best way to determine if you have a 2A or a 3A is by
the length of the top of the rear wheelwell. I have a Willys
advertisement that shows the 2A with a 35-5/8" wheelwell and the 3A
with a 32" wheelwell. I measured my 3A wheelwell from the rear of
the body to the top front edge and it is 32". I don't have a 2A to
measure, unfortunately, for comparison. If someone can confirm
this on a 2A, that would be great...

and

The difference is in the rear wheel housing. The 3A seats make for a
little more room between the steering wheel and driver. Early 49 CJ3As
had the 41 rear end...

and

If the rear axle is a D44, then chances are good it's a 3a. if the rear axle
is a D41 then it's a 2a I think there is some difference in the frame horns
too...

and

The 2A used gussets between the front
frame horns and the bumper, whereas the 3A's bumper
bolted directly to the frame. If you've got them sitting
side by side it should be easy to tell if there's a
difference. Based on the picture it looks like there
are no gussets there (ala 3A style).

Along with all the good advice from WillysTech, we also found some clues here:
http://www.specialtyparts.com/vins/cj3avin.htm
http://www.off-road.com/jeep/tech/cj-3a.htm
http://www.film.queensu.ca/CJ3B/Siblings/CJ3AOrigins.html
http://www.film.queensu.ca/CJ3B/SerialNos/SerialNosFrame.html
http://www.thecj2apage.com/history.html
http://www.thecj2apage.com/brochure/brochure_pg22.jpg

What we've learned so far...
Based on our measurements, the front bumper attachment, and the windshield, there seems to be little doubt we've got a 3A. It looks to us like "Ole Blue" has a D41 rear axle, so we think it might be an early ('49) 3A. We also thought the horn or the front wheel hubs might help narrow the date. Take a look and tell us what you think.

Pictures:
From the top: one piece windshield, 3A wheel well measurement, 2A wheel well measurement, front bumper close up, bumper from above, horn, and front wheel hubs.
Barry's notes:


Evan's notes: